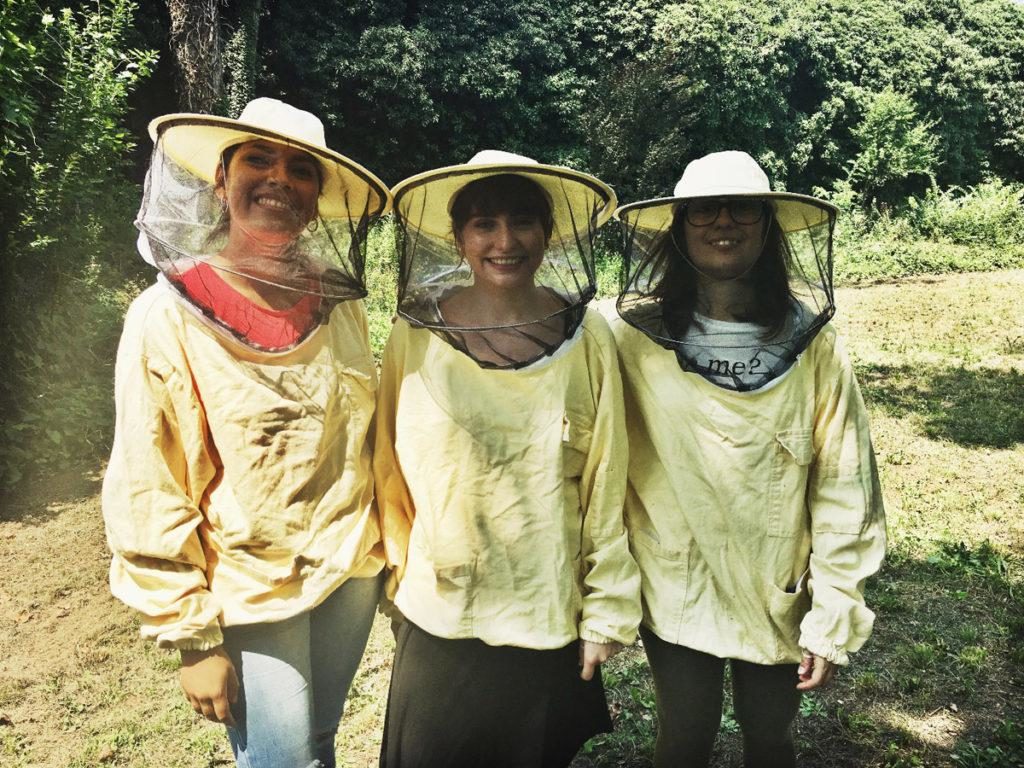 I volunteered with Cambalache over summer 2018 through AIESEC, I was drawn to the opportunity as I wanted to find out more about the challenges refugees face when integrating into a new society and what can be done to help them.
During my stay I helped to organise social events in an effort to bring awareness to the project and to encourage interactions between the community and the refugees. We organised a football tournament, a kid's activity day, and a party in the vegetable garden, amidst others. I also helped around the office with home visits and other jobs that needed to be done, such as making over 100 tiny clay bees. However, I spent the majority of my time with Bee My Job's Abdul, helping him process and package the honey form his bee hives. On one occasion I was lucky enough to travel with him to Rome to sell his produce there.
Witnessing how the organisation ran and understanding the amount of effort that goes into the project has made me truly admire all the hard work that everyone puts in. It has also encouraged me to seek out similar opportunities in Scotland, my home country, and influenced my line of study at university. Despite not speaking a word of Italian, my experience was amazing and those I worked with were kind and welcoming. I will forever think fondly of my summer spent at Cambalache.
—
Ho trascorso un periodo come volontaria per l'associazione Cambalache nell'estate del 2018, attraverso l'AIESEC. Ho avuto l'opportunità, così come volevo, di conoscere in modo approfondito le sfide che i rifugiati e i richiedenti asilo si trovano ad affrontare quando si devono integrare in una nuova società e cosa possiamo fare noi per sostenerli.
Durante la mia permanenza ho aiutato nell'organizzazione di eventi sociali, nel tentativo di aumentare la consapevolezza sui progetti portati avanti dall'associazione e incoraggiare le interazioni tra la comunità locale e i migranti. Tra le tante iniziative, abbiamo organizzato un torneo di calcio, una giornata di attività per bambini, una festa all'orto urbano gestito da Cambalache. Ho anche lavorato in sede, con altre mansioni, anche manuali, come costruire 100 piccole api di argilla per delle bomboniere da matrimonio. Ho trascorso la maggior parte del tempo con Abdul, nel progetto Bee My Job, aiutandolo a processare e confezionare il miele prodotto negli alveari dell'apiario urbano. In un'occasione ho anche avuto la fortuna di andare con lui a Roma per vendere i prodotti durante un evento.
Essere testimone di come funziona Cambalache e comprendere la mole di impegno necessaria per portare avanti i progetti in cui è impegnata mi ha permesso di ammirare ancora di più il grande lavoro necessarioda parte di ciascuno. Mi ha anche spinto a cercare opportunità simili in Scozia, il mio Paese, e ha indirizzato il mio corso di studi all'università. Nonostante io non parli italiano, la mia esperienza è stata straordinaria e coloro con cui ho lavorato si sono dimostrati gentili e accoglienti. Ricorderò per sempre con affetto la mia estate passata con Cambalache.